Traveling When You Have Asthma
posted: Aug. 03, 2020.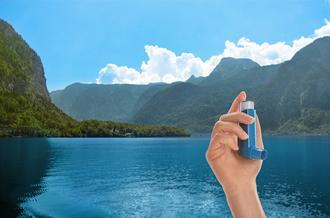 You want to go on vacation, but the truth is, you can't just leave asthma behind while you whisk yourself to another state or country. It's important that if you are planning to travel that you first speak with your doctor to create an actionable travel plan. After all, nothing is worse than experiencing an asthma attack, especially in a new place. By creating a plan with your doctor, you know exactly what to do if or when asthma symptoms flare up during your travels.

Is your asthma controlled?
It's important to be honest about your current asthma status. If your asthma doesn't feel well controlled through the medication(s) you are taking, then you need to speak with your asthma doctor about trying different medications. This can take some trial and error to find the right combo; however, it's a good idea not to travel until you have your asthma under control. If your asthma is well controlled, you should also make sure that you are up to date on all of your immunizations. Check with the destination and see if there are any vaccines you need to have before traveling and then talk with your doctor.

Do you have enough medication?
Most of us don't seem to check how much medication we have left until we realize we are almost out. But what happens when you realize that thousands of miles away in a hotel room? This is the last thing we want you to experience. This is why it's important to check all medication you are taking for your asthma. If you need a refill, then it's time to call your doctor. Make sure that you are bringing any medication you need with you and that you have enough to cover the entire length of your trip.

Do you have travel insurance?
It's recommended that everyone have travel health insurance before they embark on a trip, and this is particularly important for someone with a pre-existing condition such as asthma. It's important to do your research and to talk with your doctor about travel health insurance plans a couple of months in advance.

How well do you know the destination?
It's important to do your research about your travel destination well in advance. You need to understand everything from the current temperature to potential asthma triggers (e.g. smog; high altitudes). Check your accommodations. Did you ask for a non-smoking room? Are you staying in an apartment that could be exposed to pet dander, dust mites, or smoke? Do you know where the nearest hospital and medical facilities are? This is important information to know before you travel. Knowing this can provide peace of mind so that you can fully enjoy your trip.
Tags: Asthma,&nbsp Traveling